You don't have to be a genius to code
So say all of these extremely talented individuals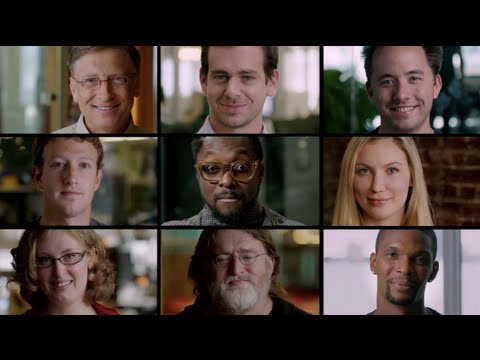 Schools can introduce the basics of coding to children as young as 11 years old. Even teachers who don't have Computer Science degrees could get their heads around simple coding.
Why is this so important you might ask. It is not simply important it is crucial because Britain has fallen way behind other countries as far as creative talents in the field of IT is concerned.
John Naughton writing in The Guardian newspaper last year said:
What we forgot was that cars don't run the world, monitor our communications, power our mobile phones, manage our bank accounts, keep our diaries, mediate our social relationships, snoop on our social activities and even – in some countries – count our votes. But networked computers do all of these things, and a lot more besides.
A debate in The Mission Critical Systems Forum on LinkedIn this week included this statement:
The President of the European Commission, Jose Manuel Barroso, has called on businesses, governments and education providers to work closer together to boost employment in the IT industry.

He said that by 2015, 90% of jobs would need "at least basic computer skills", adding that despite the "plague" of youth unemployment, employers were struggling to find people with the right skills.

According to the European Commission, the number of "digital jobs" – jobs based around IT – is growing by around 100,000 every year, yet the number of skilled IT graduates is failing to keep pace.
What it boils down to in my opinion, is that we have an obligation to ensure that our young children grow up to 'think' for themselves. It will improve Britain's ability to compete with countries like India and China in terms of computer innovation if our schools deliver people to the market-place equipped with the right skills.
Teaching children simple coding certainly does two things:
Develops their powers of intelligent thought, and
Nurtures their ability to make informed judgements about the highly sophisticated world of networked systems, cyber security and online commerce.
This lack of creativity in ICT isn't just a problem in Britain it seems the same problem exists in US. There gurus and celebrities are supporting an initiative to expand the knowledge base and the number of young people becoming involved in coding.
The Oracle Corporation is joining the debate and vows:
to bring together ICT industry representatives, Ministries of Education and relevant association and certification bodies to support the teaching of computer science.
What do you think? Have you bought your 7 year old their first computer yet? And I don't mean an iPad, I mean a Raspberry Pi …… Connect with me on Facebook, or on Twitter.
Have you noticed how TV programmes are picking up the issues involved with identity theft and data protection more and more these days?
Last night's UK airing of the BBC 1 programme 'New Tricks' (24th September 2012) got to grips with the world of hackers and hacktivists. It was good to see such a normally bland programme grappling with the dangers of the online world. And, who knows whether the lines came from the pen of the script writers or from the minds of specially engaged web gurus, it was a pretty good watch in my opinion.
Anything that helps to bring home the dangers of the Internet is crucial nowadays.
Popular media such as TV is one way into the minds of the masses and I congratulate the TV companies for attempting to reflect what is happening 'out there in the real world of cyberspace'.
When writing about such like I cannot pass by without mentioning the brilliant BBC1 programme 'Spooks'. Interwoven throughout the 10 successful series we've seen glimpses of the sophisticated world of cyber-security and threat defense.
The first instance of this 'popular' form of internet security awareness education came in front of my eyes in 1995 when 'The Net' was released by Columbia Pictures. There may well have been earlier instances, and I welcome you to add them in the comments section below. For me this was a major opportunity to talk widely within and without of my personal and professional network, about the issues associated with online security threats: to individuals, corporate bodies and indeed governments.
The topic isn't an obvious one for the dinner party table but following this movie which was very popular in UK, it became a necessary and acceptable one. It seemed to hit home just how malignant this threat to our lives could be.
Almost 20 years later we are still battling to stay safe online.
Those who would threaten us are more advanced and sophisticated than they ever were, and our protectors struggle to keep one step ahead.
If that isn't a good reason to take responsibility for our own online safety nothing is.
This video demonstrates how some other agencies are attempting to bring the message home to people.
I wonder if my expert E-Crime contact in Belgium was in the mix for the filming of this event in Brussels?
One more step to take to strengthen your security status
Set a password for your mobile device
I can't really imagine just how bad I'd feel if my phone was lost and all my contact details were placed in the hands of malicious individuals. I know I'd be mortified that I'd put my contacts at risk of being spammed by a low-life thief.
Then there's the risk of identity theft to consider.
I think it's pretty easy to identify which individuals in a persons contact list are those that are very close friends or family members. All that is needed is a quick look through the SMSs to see the tenor of the engagement.
Now the cybercriminal is just one short step away from scamming my nearest and dearest and robbing them … they send them a quick message to this effect:
"I've done a really stupid thing … I'm on a [short break/conference in US/whatever ....] I've lost my credit cards so the bank has frozen my account … this is the new account sort code/ acct number … could you please transfer a couple of hundred quid so that I can survive the next few days … I'll pay you back immediately I'm home, promise …"
Why would anyone want to risk this happening to them?
They wouldn't would they, it's just that they've forgotton to set security on their mobile device.
It takes 2-3 minutes to set a password on a phone: it's child's play … do it now.
Thanks to eCrimeScotland via eCrimeWales for prompting me to write this short blog for my readers.
Photocredit: Authors own photo not for distribution